TCW241 is an Ethernet I/O module. It provides four digital inputs, four relay outputs and four analog inputs. Its 1-Wire interface supports up to eight sensors like temperature, humidity, CO2, AC/DC current, 4/20mA etc.
The Ethernet I/O module has real-time clock (RTC) with time server synchronization (NTP) for advanced relay scheduler. It can be used for one-time or repetitive (weekly) tasks to turn on/off relays at previous set times.
TCW241 can initiate a connection (HTTP Post) to remote dedicated servers. The payload of this post is XML or JSON file, with current values of monitored parameters. HTTP post can be send periodicaly or on previous set alarm conditions. The relays of Ethernet I/O module can be activated either remotely or locally. So called remote activation includes friendly WEB interface or M2M protocols – MODBUS TCP/IP, SNMP and HTTP API. The local activation is possible from scheduler, status of single parameter or by custom made functions. They can include up to four parameters.
Features:
4 digital inputs with "dry contact" and "logic level" modes
4 analogue inputs with 0 to 60VDC range, 0.01V resolution
4 relays with NO and NC contacts
Relay rating: 30VAC, 24VDC, 3A
1-Wire support for up to 8 1-wire temperature/humidity sensors
SNMP traps on alarm
e-mail on alarm
XML and HTTP API commands
Modbus TCP/IP support
Android and Apple iOS Apps
NTP protocol support
Push mode for client-server systems
Real time clock for scheduled time/date control
Power: 8-32VDC at 300mA
Dimensions: 145mm x 90mm x 40mm
Operating temperature: -20°C to +70°C
DIN Rail mount enclosure
TC Monitor Software
TC Monitor is easy to use Windows application for monitoring and control of TCW products. TC Monitor can collect and display data from controllers installed in different locations (sites). The collected data is stored in SQL database and can be displayed or exported in MS Excel format for further analysis. TC Monitor has a simple web interface, which enables easy and fast configuration. Monitored parameters can be 1-wire sensors, digital and analog inputs and relay outputs.
The free version of TC Monitor provides 10 credits, this means up to 10 different parameters can be monitored and logged.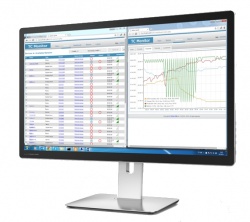 Documents: