New RHT-Climate from Novus Automation
With a wide backlight display and distinctive design, the RHT Climate is a humidity and temperature transmitter that provides high precision and stability of measurements, over a wide operation range, it calculates in real time seven psychrometric properties, all variables will be available by current or voltage retransmission or by RS485 Modbus RTU communication.
Versatile, the device allows configuration of parameters, simulation of temperature and humidity and generation of retransmission signal, useful features for commissioning on field in fast and easy way through USB with free PC software NXperience or directly by the keyboard. The RHT Climate also has two digital alarm outputs and an embedded buzzer for sound alarm.
Webinar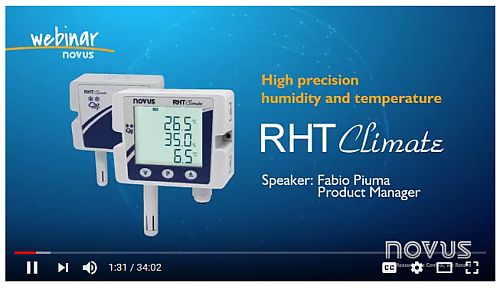 View the webinar. Starts at 5 minute mark in the video
What is exciting about the RHT Climate
The RHT Climate is packed with features that are found in RHT transmitters and controllers that cost 2 or 3 times the price.
Measured Parameters - The RHT Climate can be configured to display and retransmit the temperature and relative humidity values , or any of its psychrometric properties, calculated in real time:
- Dew Point Temperature
- Wet Bulb Temperature
- Absolute Humidity
- Frost Point Temperature
- Specific Enthalpy
- Partial Vapor Pressure
- Mixing Ratio
Accuracy – Temperature ±0,2 °C (0 °C to +60 °C) Humidity ±1,8 %RH @ +23 °C (0 %RH to 90 %RH)
Analog Outputs - Two 0-10 V or 4-20 mA outputs configurable by software or front panel keypad
LCD Display - Using the keypad the operator can view temperature and humidity and all 7 psychrometric properties. The display will also show maximum and minum values of temperature, humidity and Dew point temperature.
Alarm Outputs – The RHT Climate has Two digital outputs and one embedded buzzer. The RHT Climate Transmitter allows for four options for its alarm outputs and for the buzzer:
- Normal operation;
- Activation for set time;
- Delay in activation;
- Intermittent activation
The hysteresis value for each alarm and buzzer is configurable. This allows the RHT-Climate to be used as a standalone temperature and humidity controller.
Commissioning and Simulation – The NXperience software and USB connection allow the analog outputs to be modified. Hence simulations of temperature and humidity change can be carried out to ensure correction operation of BSA controllers, PLCs and SCADA systems.
Modbus RTU communications - For MONITORING, any supervision (SCADA) or laboratory software may be used that offers support for Modbus RTU communication over a serial RS485 communication port.
Novus Controller Selection Guide:
Novus Automation has just produced a selection guide in order to help you to better understand the features for each of their temperature and process controllers besides the input and output options.
Novus divides its PID controllers into two segments: Temperature Controllers and Process Controllers. The Temperature controllers only accept temperature sensors as inputs while the Process Controllers accept linear signal inputs (0-10V, 4-20mA) as well as the temperature sensors. Many of the Controllers come with USB communication to allow ease of configuration through a free Windows Software - NConfig. Most of our controllers have removable connections or an easy to remove frontal, that allows you to save time in wiring - besides that, the frontal is IP65.
Download the Selection Guide
Custom Projects
Our staff can assist you in integrating Senix transducers into your project. If you have a custom project you want assistance with, please contact us with your specification. We offer obligation free quotes on any custom electronics work.
Stay tuned for more updates by subscribing to our News RSS and our New Products RSS using your favorite RSS reader.
All news